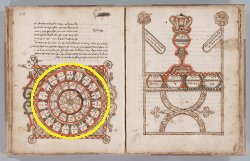 I just came back from the
Open Annotation Collaboration
(OAC) workshop, working to develop a standard format for annotations on images, video, text and other resources.The group's current work is on the right track--there are two parts to any annotation: the 'constraint' which is the part of a resource we're focusing on, and the 'body' which is the metadata describing details of that constrained section of the resource.
A 'constraint' is mostly a simple section of an image like on the right where I circle the embedded rotating calendar in a
~17th century book on Hebrew Calendars
, but the general idea of a scholarly annotation can be very complex. Just how crazy? Well, perhaps I want to show a certain rotation of the discs...